PSYCH-K Master Facilitation Workshop
Ready to Go Deeper?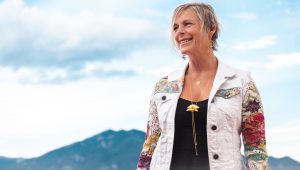 Hi I'm Joan!
PSYCH-K changed my life in 2006 and  have been teaching workshops and doing Personal Sessions for twelve years. It has been an incredible gift and I'd love to share my experience and take your expertise and skills to the next level!
This workshop provides 3-Days of intensive hands on experience to enhance your skills and go DEEPER after the Basic Workshop. I'll share ALL my tips and experience from facilitating one-on-one PSYCH-K Sessions for 12-Years. Plus I'll bring my 20-Years of corporate experience in how to get results in the most efficient and effect way.
It's Happening All Over The World – PSYCH-K Video – Come to Beautiful Portland Oregon! 
This workshop is for anyone but highly recommended for those seeking to use it professionally.

Included in the Workshop:
1. 40 page manual you'll receive two weeks before the in-person workshop
2. Follow-up on-line training two-four weeks after the workshop you've had a chance to practice, generate questions, to keep your momentum going – it will be recorded
3. Guidelines and handouts to support you. Pre-session and post session guidelines.
4. Accelerate your skills of facilitating one-on-one sessions by watching 3 live demonstrations from an experienced facilitator in how to get maximum results in a fun and meaningful way.  I'll share all my experience to fast track your skills!
5. After the demonstrations you'll, get hands on experience facilitating live, phone, and video/Skype/Zoom receiving valuable guidance and feedback
6. You'll be experiencing all the processes accelerating your change!
7. You'll learn when and how to use PSYCH-K to transform stress/trauma/phobias
8. You'll learn a process and protocol to understand more deeply the root cause of situation, through
9. We'll deepen your understanding and skills at transforming problems into goals, determining what you do want and helping others. Plus we'll go even deeper into how to clarify goals for the subconscious mind.
10. You'll increase your confidence and skill in muscle testing alone and with others
11. You'll learn how to establish surrogation to facilitate others through the phone or video sessions
and increase your confidence to do surrogation to help family, friends, or clients
12. Plus there is much more!
You'll have the 40-page manual to support you long after the workshop is over.
This workshop is for those wanting to turbo charge their PSYCH-K facilitation skills. I'll bring my 12 years of PSYCH-K experience and 20 years of corporate experience to help you create maximum results in your life and in helping others.  Just think about how you can unleash your inner wisdom and power and help others to a whole new level.
For those of you who have taken the Pro Workshop, the Master Facilitation Workshop is going to take you even deeper.  It's a whole new experience with valuable new materials. There are no discounts.
Always a bonus is that you'll be experiencing PSYCH-K throughout the 3-days giving yourself the gift of change.  Just think of the possibilities of where this workshop can take you.  This workshop is for anyone who has taken the Basic Workshop, but is highly recommended for those planning to use it professionally or have a business today.
The Master Facilitation is an intensive experience to increase your skills and results in facilitating sessions. If you're looking to use PSYCH-K professionally, it is highly recommended.
I'll be demonstrating and teaching you how to conduct a session from start to finish when you're doing them in-person, by phone, and by video(Zoom/Skype).  Then, you'll have hands on practice.  We go more deeply into all aspects of creating results using the two simple change processes learned in the Basic Workshop.
Testimonial: 
"I recently attended the Master Facilitation workshop, and it was great! I especially appreciated the guidance and practice for remote sessions by phone and video. I had previously taken the Pro, as well as all other available PSYCH-K workshops, and the Master Facilitation course added valuable information and practice. I'm glad I attended."  Michele Bertaux


Logistics
Friday-Sunday :
9 am – 6 pm.
Registration starts at 8:30 on Friday.
Location: Portland – Coming Soon!  Contact me before making any accommodations 
For Videos, Success Stories, and More … Come Visit my Website

 

(Click here!)

Tuition 
Regular Tuition $1100
Early Tuition:  $1050 paid in Full 21-Days prior to workshop
Registration Process
Check or Money Orders – no extra fees
Please send an email to
Include:
1. Your full name as you'd like to see on the Certificate of Completion,
2. Email Address
3. Phone number
4. Which workshop you'll be attending
5. Please
Make the check payable to Joan Cameron. Mail to Joan Cameron 5916 SW Hood Avenue. Portland, OR  97239
To Pay by Credit Card
Please  send an email to
Include:
1. Your full name as you'd like to see on the Certificate of Completion,
2. Email Address
3. Phone number
4. Which workshop you'll be attending.
5. I'll send you a Paypal link to your email and you will fill in your credit card information. Please note there is a $25 additional fee for credit cards

Public Transportation Portland is Proud Of
Portland has excellent public transportation. There is a light rail system that goes from the airport to downtown Portland and west. It ends about 2-3 miles from the workshop location. The bus system goes all over Portland and comes within two blocks of the workshop on SW Macadam Street/Pendleton in John's Landing. Uber is a big favorite for workshop participants too but if you want some freedom a rental car may be a good option. Portland's airport has been named the Best Airport by U.S Travel Magazine for four straight years! It's easy to get around, the security lines are mostly short and the security and personnel are friendly! I may be biased but I've traveled to most airports in the US and many abroad and agree it's awesome! The airport has local shops such as Columbia Sportswear, Nike, and Pendleton Woven
Portland International Airport (PDX)
Miles for the most extraordinary blankets and clothes.   Oregon has no sales tax.
There is shopping very close to the airport too so when you return your car and have some extra time, you can check it out.

Local Attractions and Things to Do, Eat, and Be Merry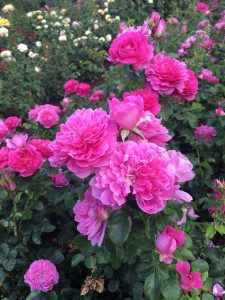 I am a native Oregonian and tree hugger! I love it when people come to visit our treasured Portland and the surrounding beauty. I think Portland earns the bumper sticker "Keep Portland Weird." If you've never been here, I think you'll love it!
* Japanese Gardens with Tea House – my favorite! 10 minutes from downtown
* Columbia Gorge – Multnomah Falls (despite recent fire, it's still beautiful) 45 minutes drive from Portland
* Pittock Mansion and spectacular view of Portland and when clear one can see Mt. St. Helens, Mt. Hood, Mt Adams, and even a peek of Mt. Ranier. 10-15 minutes from downtown
* NW 23rd – a trendy street with shops, bars, restaurants and coffee houses with many older PDX (Portland) houses
* Pear District – Also in the NW portion of downtown Portland with galaries, shops, restaurants, and lofts. It was modeled after San Francisco
* SE Hawthorne and SE Division – old 70s Hippy areas plus younger crowd and where Portlandia, the TV show was based upon and filmed.
* Portland Food Carts. There are over 500 food carts in Portland with some fine dining at reasonable costs. Portland has a wonderful food culture, with food from around the world.
* Portland Micro Breweries. Portland has the most Micro-Breweries Per Capita in the United States.   If you're a beer lover you'll be in heaven. If you prefer wine or cocktails, don't worry; Portland has a ton to offer.
* Or if you like Teas/Coffees, Portland is a close second to Seattle in having a Coffee Shop or two or three on every corner!
* Portland Spirit – ride the Portland Spirit, have dinner or just enjoy the boat ride along the Willamette River
* Spectacular Oregon Coast – it's about a 90 minute beautiful drive to the Oregon Coast. Canon Beach is a favorite with art galleries and still it very quaint and small, but there are many towns to stay.
* Oregon Wine – The Willamette Valley is Famous for its Pinot Noir. Dundee, McMinnville is just 45 minutes from Portland and there are nearly 100 wineries.
* Hiking and Silver Creek Falls. Silver Creek Falls is a treasure and about 1 hour from Portland near Silverton that is home to the Oregon Gardens another treasure. Silverton is home to first transgender mayor in the country and the basis of Hollywood movies. I'm very proud of the diversity and openness that one can find in our state.
My Love Affair With PSYCH-K Since 2006 
I am so proud to be a PSYCH-K Instructor!  I will never forget the day I learned PSYCH-K.  It explained so much about why I was stuck in certain parts of my life no matter how hard I tried.  Even after twelve years I still use PSYCH-K myself.  It is helping me write a book, deal with loss, and continue to reveal my heart's desires.
I use to teach all over the world but right now I'm sticking close to home in Portland to spend precious time with my Dad.
Please feel free to call or email me and see if the PSYCH-K Basic Workshop, and me as your Instructor, is the best fit for you!
Warmly,
Joan
YourBeliefsMatter.com   


503-245-8296