Learn to Create and Live the Life You've Imagined TODAY – With PSYCH-K®
What Bruce Lipton has to say…!!!
"The 'secret to life' is BELIEF. Rather than genes, it is our beliefs that control our lives. PSYCH-K® is a simple, self-empowering process to change your beliefs and perceptions that impact your life at a cellular level. I have personal experience with PSYCH-K® and I am confident in its integrity, simplicity and effectiveness."   — Bruce Lipton, Ph.D. Cellular Biologist, author of The Biology of Belief
In this PSYCH-K® Basic Workshop you will learn how to: 
Facilitate change for yourself and others, quickly and easily with PSYCH-K's effective step-by-step processes
Use muscle testing efficiently and confidently to get clear reliable results – for novices and seasoned pros
Benefit from the differing skillsets of the conscious and subconscious minds 
Speak the language of the subconscious mind, which differs from how we usually speak
Identify then transform limiting beliefs into beliefs that empower and support you
Leverage the power of the whole brain state
Move past destructive habits and behaviours (e.g. smoking, overeating, etc.)
Transform perceived stress and trauma (past, present, future)
Clarify goals so your subconscious can understand and support you
Work WITH the subconscious to discover what is blocking or keeping you stuck
After attending this experiential, 3-day workshop, you'll be qualified as a PSYCH-K® Facilitator! As such, you'll be part of a wonderful worldwide community, able to facilitate the PSYCH-K® Balance processes with yourself as well as with family, friends, colleagues and clients in 1-1 sessions. PSYCH-K® easily becomes a cherished companion, at home, work and play. Just imagine all you'll create!
Saturday, Sunday 10:00am – 6:00pm, Monday 10:00am to 3:30/4:00pm
Although the title say Basic, these three experiential days are full and powerful. Plan to take gentle care of yourself before, during and after the training.
Investment: $850 USD
If possible, it is highly beneficial, though not required, to attend with a like-minded friend, colleague or family member. Having someone to practice with after the workshop has shown to support the integration of the processes and help each person achieve greater levels of confidence, success and results.. Two or more attending together receive a $55 discount each ($795).
To REGISTER: contact Sandra Wallin via Email:  
BUT HOLD YOUR HORSES 🙂 
We're also offering an Advanced Integration Workshop in Maui on May 6-9, 2019
If you are interested in learning the profound balances and processes shared in the PSYCH-K® Advanced Integration Workshop – and want to SAVE – Sandra will be offering an Advanced Workshop following this Basic Workshop, also on Maui, on May 6-9. Regular tuition is $1250 US however if you book the ISLAND COMBO = the May Maui Basic WITH the May Maui Advanced, you'll SAVE$250  off the regular pricing.
EMAIL Sandra to let her know you're booking the ISLAND COMBO $1800 for both workshops.
ARE YOU READY FOR A LITTLE MORE MAGIC? Well lots more actually… 
A Divine Integration Retreat is being shared on MOLOKAI – May 12-15.
If you then want to carry on into ever more wonderful layers of PSYCH-K, the Divine Integration Retreat will be held on on the sacred island of Molokai, May 12-15. CLICK HERE for ALL the DETAILS.
About your certified instructor: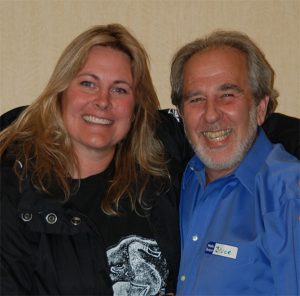 Sandra is from Vancouver, Canada. She was a school teacher and counsellor for 22 years and has been a psychotherapist for almost as long. In 2008, after a horseback riding accident left her unconscious and broken, Sandra began to use the PSYCH-K® processes she'd been sharing with others, with herself. Her healing progressed exponentially! She then knew had to learn as much as she could about PSYCH-K®.
Two months later, Sandra became a PSYCH-K® Instructor and since then, has had the pleasure of sharing these life changing processes with people the world over; in open workshop settings, within schools, organizations and communities, and at the request of Dr. Bruce Lipton, at a maximum security prison where she's been helping men serving life sentences, break free from the prison of their limiting beliefs. 
Sandra Wallin, BSc, BEd, MA, RCC
Certified PSYCH-K® Instructor – Basic, Advanced Integration, Master Facilitation and Divine Integration Retreat
Sandra is warm, inviting, well spoken, generous, engaged, and open. She looks at people when they speak with her which I love. – Arlie
The most amazing teacher. Clear. Concise. Positive. Encouraging. Safe. -Vicki
I love listening to Sandra and always would like more of her stories. Her humour is just yummy! – Leanne
Sandra is an all around amazing teacher. She made it fun and easy to learn the advanced processes, and answered questions kindly and clearly and with obvious passion for what she is sharing. I'm so grateful she was and is my instructor. – Odette
My favourite things about Sandra as an Advanced Instructor: – sense of humour – storytelling – wealth of knowledge – confidence – and she challenges participants to grow in the best sense of the word… – Sandy
Sandra's patience, sense of humour and eloquent communication are invaluable to me. – Madeleine
Repeat the Basic Workshop: $180 per person.
You will need your original class materials.
Bring a friend with you to their first class and repeat for FREE!