Welcome to the Online Level 2 Workshop!
The Level 2 is designed to help you develop masterful facilitation skills when working with yourself, and with others  at a distance – by phone or online video. It is for professionals and non-professionals alike who would like to fine-tune their PSYCH-K® skills beyond what was possible during the PSYCH-K Online Workshop – Level 1.
The net effect is increased effectiveness, elegance, ease, and confidence with the PSYCH-K® processes, the ability to facilitate meaningful and transformational sessions with others, and the ability to support the evolution of consciousness as a PSYCH-K® Facilitator.

Location: Online – from anywhere in the world!
Dates: December 7-9, 2023 Canada, US, Mexico, South America and Europe 
Times:
9:00 am – 3:30/4:00 pm North America (Vancouver/LA)
12:00 pm – 6:30 pm/7:00  North America (Toronto/New York)
5:00 pm – 11:30pm/Midnight Europe (London)

Investment: $1000 USD 
Your instructor for this workshop is:
Sandra Wallin, BSc, BE
d, MA, RCC
Certified PSYCH-K® Instructor – Online Level 1, Basic, Advanced Integration, Master Facilitation and Divine Integration Retreat
info@chironsway.com
www.chironsway.com
CLICK HERE to Learn MORE and to REGISTER
In the PSYCH-K® Online Workshop – Level 2 you will learn how to:
Adapt what you learned in the Online – Level 1 to work with others in audio or video sessions
Learn Surrogation to facilitate transformational long distance sessions
Transform the perception of stress into a state of peace WITH a Partner
Discover spiritual messages that may be present in life's challenges
Understand how to work with secondary gains at a deeper level
Conduct effective and dynamic online video and phone sessions from start to finish
Benefit from Balances you facilitate with others and that they facilitate with you
Navigate and resolve any occasional exceptions to the Balance processes
Expand your facilitation skills based on the helpful feedback provided to you after each session
Develop a personal and inspiring core-connection statement describing your role as a PSYCH-K® Facilitator
Use the designation of PSYCH-K® Facilitator and be listed on the international PSYCH-K® website, if you choose
Step confidently onto the road of mastering the art of facilitating PSYCH-K®!
In preparation for the workshop, you will receive the PSYCH-K® Online Workshop – Level 2 Facilitator's Manual. This is a valuable resource that will support you as you facilitate growth and transformation for yourself and with others, online and by phone.
After the workshop, you will be invited to attend a post-workshop call and receive a document with additional information on subjects such as marketing, how to conduct an effective presentation of PSYCH-K® to groups and organizations, the dos and don'ts of conducting private sessions, and much more.
Post Workshop Support:
After the workshop, Sandra hosts a followup call to support and help integrate your learning. You are also invited to participate and stay connected within an online group of fellow participants, where conversations and sharing are nurtured and encouraged.
If you also want to learn how to share PSYCH-K
®
 with others, In-Person, then the In-Person Workshop stream is available to you starting with the 
Basic Workshop
, followed by the in-person
Master Facilitation Workshop
.
About Sandra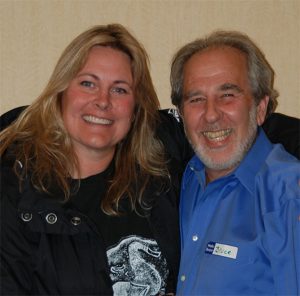 Watch a Conversation with Sandra about her journey with PSYCH-K®
Sandra is from Vancouver, Canada. She was a school teacher and counsellor for 22 years and has been a psychotherapist for almost as long. In 2008, after a horseback riding accident left her unconscious and broken, she began to use the PSYCH-K® processes she'd been sharing with others, with herself. Her healing progressed exponentially! She knew then she had to learn as much as she could about PSYCH-K®.
Soon after, Sandra became a Certified PSYCH-K® Instructor and has since had the pleasure of sharing these life changing processes with people the world over; in open workshop settings, within schools, organizations and communities, and at the request of Dr. Bruce Lipton, at a maximum security prison where she's been helping men serving life sentences, break free from the prison of their limiting beliefs.
Sandra is warm, inviting, well spoken, generous, engaged, and open. – Arlie
The most amazing teacher. Clear. Concise. Positive. Encouraging. Safe. -Vicki
My favourite things about Sandra as an Instructor: – sense of humour – storytelling – wealth of knowledge – confidence – and she challenges participants to grow in the best sense of the word… – Sandy
Sandra's patience, sense of humour and eloquent communication are invaluable to me. – Madeleine

I look forward to meeting you. Please email  info@chironsway.com if you have any questions or if I can support in any way.
CLICK HERE to Learn MORE and to REGISTER